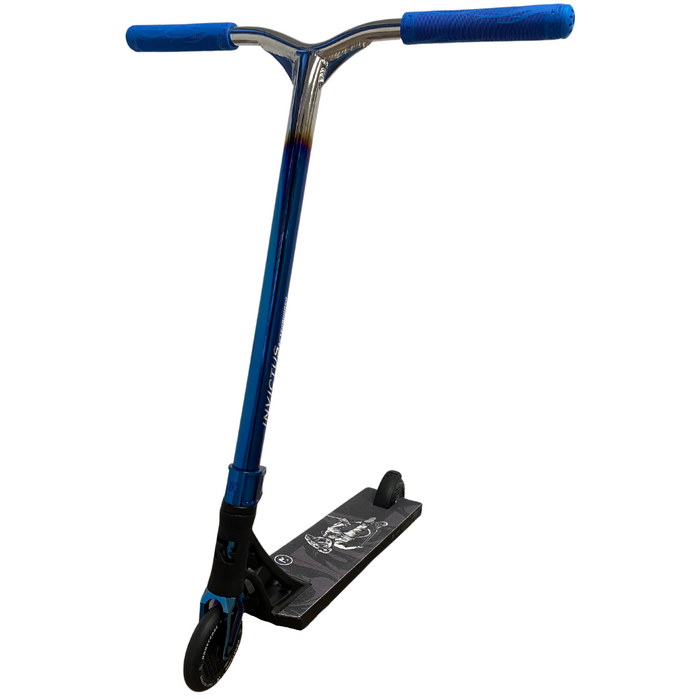 Root Industries Custom Scooter (Black/Afterburner Blu Ray)
Sold out
Original price
$589.60
-
Original price
$589.60
Description by Root Industries:
This custom scooter from Root Industries is designed for a rider who is ready to take their game to the next level. Every component of this custom scooter has been hand-picked by our Pro team, meaning this is a scooter that not only looks sick, but will also help improve your skills at the park.
All parts in this scooter are designed to fit perfectly together, giving you a smooth and completely dialed set-up (no rattle, guaranteed).
What's included?
AIR v2 Deck:
The Root AIR v2 deck is a beautifully designed and crafted scooter deck. This model is the 5.25" wide x 20.5" long and features the awesome flat-bottom plate which makes grinds super-easy and smooth. Square-edged, lightweight, and built to last, this deck is a dream to ride.
HMA Invictus Bars:
The Root Industries HMA bars are the LIGHTEST and STRONGEST alloy bars in the sport. Made from Hi-Modulus Alloy (HMA), these bars are 50% stronger than regular aluminium bars, yet weigh slightly less. The bars measure 610mm tall and 580mm wide, making them perfect for riders who are 145cm (4'11") to 180cm (6') in height.
Invictus Forks:
These Root Industries Invictus forks are made from 6061 aluminium and can accommodate 110mm or 120mm wheels. Super-stylish, and LIGHTWEIGHT, these Root forks look perfect on any set-up.
AIR Clamp:
The AIR Clamp is the perfect clamp to keep your bars firmly attached to the forks, whilst looking sick on your scooter.
Headset:
The Root Industries headset is the SMOOTHEST headset in scootering. If you've never ridden one before, you'll be blown away by how effortlessly your bars and forks spin with this headset. With the flush dust cap, the Root headset forms a seamless join between deck and clamp. Pure Perfection.
Wheels:
Root Industries has been the world's #1 manufacturer of scooter wheels since introducing the Air wheel in 2014, These 110mm HoneyCore wheels are the LIGHTEST and FASTEST scooter wheels ever made, and they come with the renowned quality and durability that Root wheels are famous for.
Griptape: 
Root Industries' griptape designs are some of the most popular on the market, and look gnarly on this set-up.
Grips:
Our famously soft and comfortable R2 grips come fitted on this custom scooter.
From Slam Factory:
This custom scooter comes with 4x Free Session passes (worth $15 each) to ride at Slam Factory Indoor Skatepark. We also offer free servicing on the scooter.