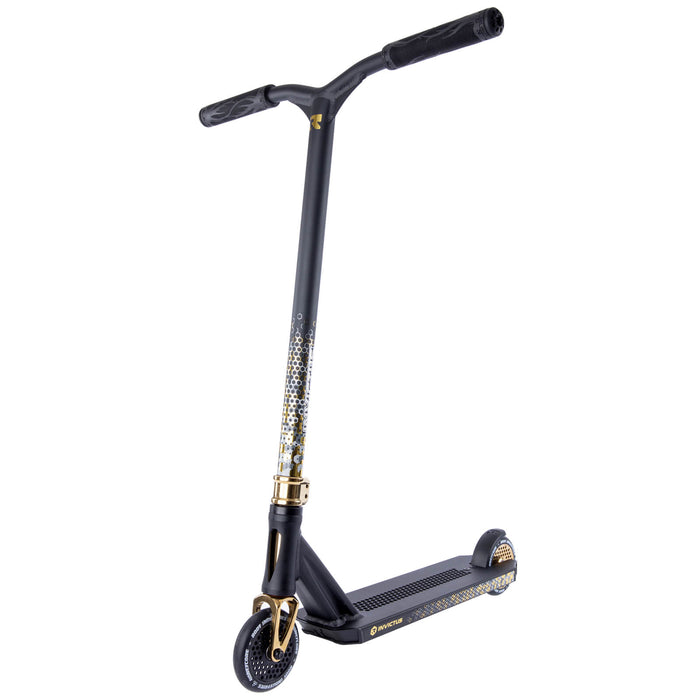 Root Industries Invictus V2 Complete Scooter (Black/Gold Rush)
Sold out
Original price
$299.95
-
Original price
$299.95
In Latin, the word "Invictus" is defined as "unconquerable" – which is exactly what the all-new Root Industries Invictus V2 complete scooter is designed to be. Offering a great balance of affordability and quality, the Invictus V2 complete scooter is a perfect fit for riders looking to progress quickly in the sport. Weighing in at just 3.2kg, the quality of riding this scooter provides is normally reserved for much higher-priced complete scooters.

The main goal that Root Industries set out to achieve with the Invictus V2 range of complete scooters, was to give the rider a weapon that would allow them to progress quicker. The Invictus V2 achieves this with an even more perfectly balanced deck than the first iteration of the product, which is designed to maximize foot-space and allow for optimal comfort, while remaining compact and allowing for quick, smooth stunts.

One of the most prominent features debuting on the Invictus V2 complete scooter is the addition of Root Industries' signature HoneyCore wheels (RRP $89.95 alone) coming stock on all colour options. These ultra-light 110mm x 24mm wheels add to the stability and balance of the scooter, allowing for more natural and fluid-feeling movements and enabling the rider to progress with ease. Combine these top-quality wheels with the unrivaled speed gained from Root Industries famous ABEC-11 bearings, the weight reduction from Root's specialized HMA bars, and the buttery-smooth whipping capability of a frictionless AIR headset, and you have a top-tier professional scooter that will help usher along progression so fast that it is almost like cheating!
Key features:
HoneyCore Cut-Out Top Deck Plate

HoneyCore Aluminium Wheels (110mm x 24mm)

HMA Aluminium Invictus Handlebars
Lightweight Invictus V2 Aluminium Forks
Lithium Double Clamp
R2 Handlebar Grips
Easy Push Nylon Brake
IHC Compression
Specs:
Overall weight: 3.2kg
Overall length: 685mm (26.96")
Overall height: 850mm (33.46")
Deck length: 500mm (19.68")
Deck width: 123mm (4.84")
Foot space: 355mm (13.97")
Handlebar height: 610mm (24.01")
Handlebar width: 580mm (22.83")
Wheels: 110mm x 24mm